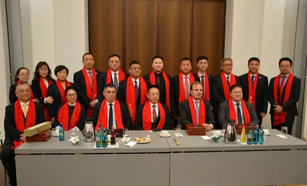 Frankfurt, Germany - 2018.01.19 - SGCI is pleased to announce that after months of working with Beroni Group Limited, the dual-listing for the company on the Frankfurt Stock Exchange has been successful. Today, a ceremony was held at the FSE to celebrate the success. SGCI CEO, Mr. DS Chang, welcomed the CEO of Beroni and special guests to Frankfurt and gave his congratulatory remarks to everyone involved in the process.
Beroni Group's expertise in the fields of R&D in the biotechnology and life sciences sector, as well as strong company developments in the fields of green technology and new energy, has really allowed the company to become a leader in its line of business. SGCI is confident that raising capital on the robust trading platform of the Frankfurt Stock Exchange, with the joining and support of new investors and shareholders, will help Beroni Group to continue its success of expanding its global presence.
The Frankfurt Stock Exchange (FSE) is one of the largest securities exchange centers in the world, with a long history of over 400 years. The stock exchange is the leader amongst Germany's top seven stock exchanges, accounting for as much as 90% of all transactions. The Deutsche Börse Group operates the Frankfurt Stock Exchange and ensures the normal trading of its securities. Listing on the Frankfurt Stock Exchange means a company will be along side international corporations such as Adidas, BMW, Mercedes Benz, Deutsche Bank, Hugo Boss, Lufthansa, Porsche and Siemens, which helps to enhance the international profile of a company.
As the appointed financial advisor to Tianjin's Beroni Group (Stock Code: BTG), a listed company on the National Stock Exchange of Australia (NSX), SGCI has not only successfully assisted Beroni for a dual listing on the Frankfurt Stock Exchange in Germany, but has also obtained tens of millions of euros in investment commitments from professional European investment firms.
SGCI is confident in helping Australian listed corporations for a dual listing on the FSE and obtain the necessary funds required by the company.