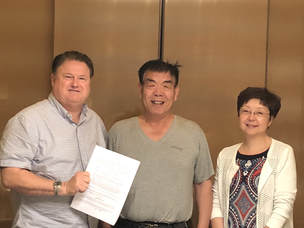 Beijing, China - 2018.05.18 - Resort Savers, Inc. (OTCQB: RSSV) is a strategic acquisition and development company focused on identifying and acquiring high demand, revenue-generating assets. The Company is currently developing and investing in the oil/gas, multi-level marketing (MLM), and film industries.
With the assistance of SGCI, the Company entered into an Exchange Agreement on May 18th, 2018 with Mr. Yang Baojin, President and majority owner of Beijing Yandong Tieshan Oil Products Co., Ltd.(BYTOC), a corporation organized under the laws of the People's Republic of China, and Huaxin Changrong (Shenzhen) Technology Service Co., Ltd., a corporation organized under the laws of the People's Republic of China ("Shenzhen"), which is a wholly owned subsidiary of RSSV. Under the Exchange Agreement, at the closing of the transactions thereunder, RSSV will issue new shares of its Common Stock to Mr. Yang, and Mr. Yang shall transfer to Shenzhen an ownership interest in BYTOC so that Shenzhen will own a 100% interest in BYTOC.
Furthermore, we are happy to announce that RSSV has hired SGCI to assist the Company for a listing on Nasdaq. We are confident in guiding our client through the process and providing our expertise to ensure that the Company and its investors benefit long-term.
The Nasdaq Stock Market is an American stock exchange. It is the second-largest exchange in the world by market capitalization, Nasdaq is a global electronic marketplace for buying and selling securities, as well as the benchmark index for U.S. technology stocks, an index of more than 3,000 stocks listed on the Nasdaq exchange that includes the world's foremost technology and biotech giants such as Apple, Google, Microsoft, Oracle, Amazon, Intel and Amgen.