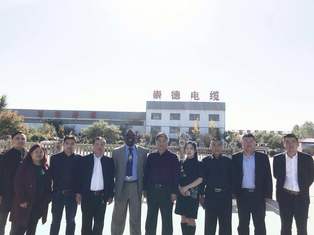 Shijiazhuang, China - 2018.06.28 - SGCI is pleased to announce, that it has entered into an agreement with the Chinese company, Chongde Cable Co. LTD, to assist the company with a listing on the Luxembourg Stock Exchange.
Established in 2011, Chongde Cable Co. is a high-tech enterprise with over 140 staff engaging in the research & development, production, and application of wires and cables, with an annual output of around 1.5 billion yuan. Products from the cable and wires industry are widely used in energy, transportation, communication, automobiles, petrochemicals, and such other sectors, playing a vital role in the growth of China's national economy. The company plans to expand its business within China, as well as extending to Europe, with investments in decentralised wind farms and other power-related activities that would contribute to the construction process of local government infrastructures.
Chongde Cable Co.'s expansion to the European market will start off in Luxembourg and the company aims to be listed on the Luxembourg Stock Exchange (LuxSE). The company will benefit from greater visibility and enhanced brand recognition. Investor confidence will be boosted by generating more transparency for the securities issued.
SGCI is confident with this listing and fundraising on the LuxSE, which is the world's number one exchange for the listing of international securities, providing issuers with a unique and comprehensive service that covers listing, trading, and reporting. As an EU-regulated and recognised exchange, being listed on the LuxSE, provides a better fund profile and credibility to investors.