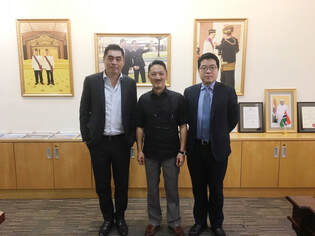 Kuala Lumpur, Malaysia - 2018.09.18 - Laos Asian Studios Corp. is an international business company incorporated in the Republic of Seychelles. The company is mainly engaged in film production and operation management, web application development, e-commerce platforms, commercial real estate, retail and hospitality, yacht clubs, manufacturing and technical agriculture.
The company has hired SGCI to conduct a reverse takeover (RTO) of Sympowerco Corporation, a public listing company (XLWH) incorporated in the State of Nevada. Laos Asian Studios has trusted SGCI in providing our services in order for an up-listing and establishing its trading presence in US National Exchanges such as NASDAQ and the New York Stock Exchange.
Laos Asian Studios Corp. counts on us to be an active supporter and partner in the building and sustaining of their successful business enterprises. SGCI services include but are not limited to:
·Initial Public Offering and/or Reverse Take Over;
·Merger and Acquisition;
·Full S.E.C Filing Services such as Form 10-Q, Form 10-K, Form 8-K, Form 3, Form 4, Form 5, Sc13/D, Sc13/G, Sc14A, Sc14C, Sc14F and etc;
·Corporate Secretarial Service;
·US Corporate Exercise such as Change of Company Name, Officer, Symbol, Authorized Capital, Domicile, Proxy Statement and etc;
·Business Structuring;
·Due Diligent.