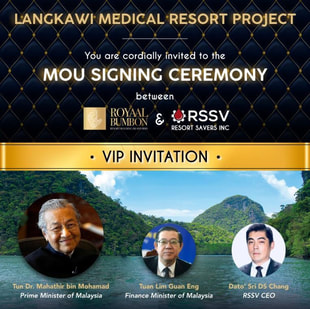 Kuala Lumpur, Malaysia - 2019.03.24 - With the assistance of SGCI, Resort Savers Inc. (RSSV) has signed a Memorandum of Understanding with The Royal Bumbon Resort Holding (M) Sdn Bhd to develop a high-end healthcare centre on Bumbon Island, Langkawi. With the honorable presence of the Prime Minister of Malaysia, Yang Amat Berhormat Tun Dr. Mahathir bin Mohamad and the Minister of Finance, Malaysia Yang Berhormat Tuan Lim Guan Eng as the Guests of Honor, the MOU signing ceremony successfully took place at the Four Seasons Hotel in Kuala Lumpur.

The 92 acres island with RM 1.2 billion investment, besides being sustainable, aims to build a resort that blends perfectly with the ecosystem and will boost more than 10% responsible tourism for Langkawi - making it a place with a state of the art wellness center and to become a internationally preferred travel destination.
SGCI believes in providing exceptional services to our clients. Nothing is ever left to chance. Our clients get the best technical and commercial advice from day one. We proactively manage each transaction, negotiate on our client's behalf, and report back at regular intervals to keep clients informed about how the transaction is progressing.




Approximate Timeline of a Project